G

o

o

g

l

e

Ads
Be seen by your target audience at the top of Google search results
If you're looking for a fast, guaranteed way of getting your website onto the front page of Google, then PPC is the way to go.
We offer an AdWords Management service that is accredited by Google themselves. This means that we know what we're doing which in turn means you'll get the most efficient use of your AdWords budget.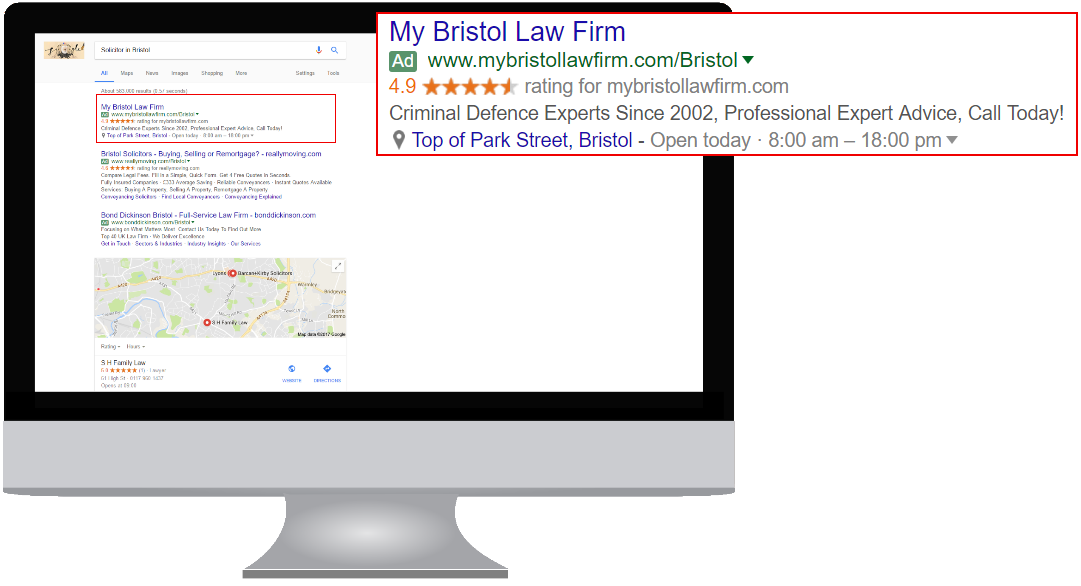 Get your site in front of the people who are actively looking for your service

Keep to a pre-determined budget

Monitor every visit and conversion
No Contracts
No need to commit to a massive budget for months on end. We want you to stick with us because you see the value!
We're Local
We are real people so you can see us face to face or call us direct if you ever have any questions or need things changed.
We're accredited
We have accreditations from Google, SEMrush and Isaac Rudansky at Udemy. So we know what we're doing.
So, what can we provide you with in your campaign?
Every business is different so the list below showcases what we're capable of providing. Whether it is appropriate for your business will come down to what you're trying to achieve.
Monthly Reports
Each month you will receive a report outlining how many clicks you've received, how many conversions that has garnered, what the ROI was and lots more.
Ad Scheduling
To help keep the best use of your budget, we can set your ads to only appear during certain hours of the day and on certain days of the week.
Text Messaging
Customers can send you a txt message direct from your ad when they can request a call back, instant quote etc…
Showcase Reviews
If you've got some good online reviews, why not showcase them to your prospective clients?
Bespoke Landing Pages
We don't just direct people to your site, we make sure that your site is structured in a way that Google will favour. This means cheaper costs per click.
Call-Only Ads
Looking to drive more phone calls to your business? This is a great way to do it if the customer doesn't need to do too much research. Perfect for taxi companies, pizza shops etc.
Conversion Tracking
Without proper conversion tracking you are essentially throwing money away. This is why we provide full transparency through conversion tracking with every level of service that we offer.
Call Conversions
We can change the telephone number shown on your website whenever somebody arrives from one of your ads. This will still go to your normal phone but this way we can count it as a conversion.
Call Recording
Listen to the calls that have come to your business from your ads. Get access via your own dashboard that you can log in to at any time. Listening to real calls from your ads is one of the best ways of knowing what's working and what isn't.
Form Submissions
Every time a customer submits a call back request, quote request or contact form, you will know exactly when they were searching, what they typed into Google and then be able to work out whether that converted into a sale.
Google AdWords Management Pricing
We know that some agencies charge as much as 40% of your AdWords budget. We think that this is crazy. It's not only extremely expensive but it also gives them incentive to let your campaign be less efficient. This is why we have a fixed pricing model.
Basic
Up to £300/month budget
£50
Per Month
£250 setup
Monthly Reporting
Call Conversion Tracking
Form Conversion Tracking
Contact Us
Standard
Up to £1500/month budget
£250
Per Month
£350 setup
Monthly Reporting
Call Conversion Tracking
Form Conversion Tracking
Campaign Call Recording
Quarterly Face to Face Meetings
Contact Us
Pro
Up to £4500/month budget
£500
Per Month
£500 setup
Monthly Reporting
Call Conversion Tracking
Form Conversion Tracking
Campaign Call Recording
Monthly Face to Face Meetings
Landing Page A/B Split Testing
Contact Us